MRC Executive Director Kerrin O'Brien testimony before House Subcommittee on Appropriations for Environmental Quality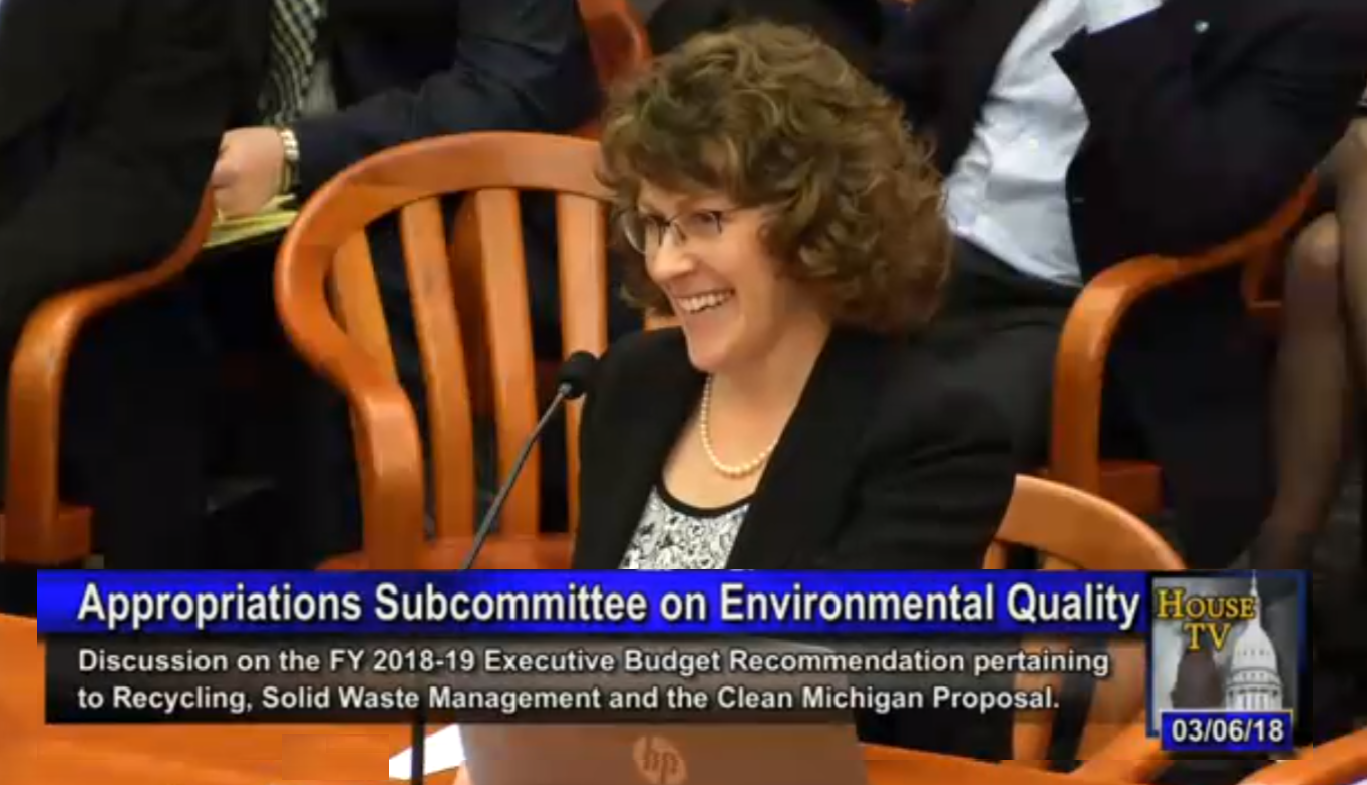 March 6, 2018
Honorable Mary Whiteford, Chair
& Members of the Environmental Quality Subcommittee
Dear Rep. Whiteford & members of the Environmental Quality Subcommittee,
The Michigan Recycling Coalition represents public and private sector recycling service providers, and communities and businesses that recycle. Our Coalition has been working for more than 36 years to advance individual and collective recycling goals in Michigan. We have about 450 professional members across the state. We host an annual conference in May that attracts 400-500 professionals.
Our members have spent a lot of time and money to get us to today. Their work makes Michigan more economically and environmentally resilient. They are leading the way, turning the wasteful practices of the past into the business opportunities of the future.
In spite of years of little progress, local and state public and private sector investment in recycling and composting continues. But other states that have been in investing in waste management alternatives on a larger scale for years and are reaping the rewards.
For 40 years our state policy has focused on managing municipal solid waste through disposal. We require counties, through the planning process, to secure at least 5 ½ years of disposal capacity or make way for the development of new capacity. The result is that we now have plenty of cheap landfill space. The DEQ monitors those landfills and too often, has to clean-up those landfills.
This is unfortunate, because 40 years later, we know that most of our waste can be managed in more economically productive and sustainable ways. Collectively we spend $1 billion dollars to manage our waste. But if we can increase our recycling rate, we can shift costs to grow an industry that currently employees 93,000, generates $5.7 billion in annual labor income, and creates $24.3 billion in economic input. Imagine what doubling or tripling our recycling rate would do.
County solid waste plans have not been updated since gas was $1.22 a gallon – over 20 years. The waste and recycling world has changed drastically and we didn't keep up. Local expertise has dried up and the DEQ is stuck managing policies that don't work for us anymore. The DEQ needs additional tools to better serve the needs of residents and foster innovation and productive materials management.
The planning process was put in place to ensure that counties have disposal capacity. Changes to Part 115 will broaden that process to include other materials management options, like recycling and composting. Stakeholders have been working together for many years to reach the kind of consensus we've developed. We've found agreement on a whole host of issues as we identify the right policies that will also support the productive use of waste.
We agree that we must enable communities to make smart plans to achieve goals that work for them; that serve their residents and businesses and create economic opportunity.
Plans will assure that everyone has convenient access to recycling whether they live in rural or urban communities;
Counties will be funded to facilitate the local and regional planning process;
Municipalities and townships will be active players in the process;
Planning will prioritize local control of facility siting, but also assure that these facilities can get sited if they are needed;
The process will foster public/private partnership to meet local and regional infrastructure and service needs; and
Grant funding will support the development of needed local and regional programs and infrastructure.
Market development priorities allow us to capture materials already circulating in our economy, meet economies of scale, and attract businesses with opportunities at every stage of the recycling process. We're making competitive manufacturing feedstock available to existing and potential Michigan businesses, close to home.
The recycling industry has worked to advance these initiatives in the face of policy that has worked against us for decades. But now, residents expect that recycling will be included in the suite of public services available to them. Businesses need comprehensive recycling services to be competitive and achieve their own sustainability goals. We must assure those services are accessible and match them with an educational campaign that drives informed participation.
Funding the full spectrum of solid waste management needs through a surcharge is an effective way to fund the diversification of materials management, and in fact, all of our Great Lakes neighbors, including Canada use it. Recycling and composting are not free, there are costs to processing these materials but there is also the potential to sell processed material and recoup those costs, something landfills cannot offer. But we've chosen to invest in landfills and we attract trash. Recycling and composting aren't competing well in this environment.
Communities and businesses that received bond dollars back in the late '80s – early 90's are prospering today. They are our shining stars and the model programs of our future. That one-shot funding boost left a mark but didn't shift our priorities. There are communities and businesses ready to grow but they don't benefit from today's policy environment and they need support to overcome the resulting economic constraints.
It's time to rebalance policy and diversify the business opportunities of waste. It's time to stop calling the stuff we throw away, waste, and instead fully realize its value as resources. We need to create and support an environment conducive to business development and innovation around materials that we pay to throw away (and monitor forever).
Every Michigan resident, business, and institution has something to gain. Not only in better ways to manage waste but in new services and materials to drive business. We need legislative action today that sets us up to turn our liabilities into assets.
Sincerely,

Kerrin O'Brien
Executive Director
Share this post: