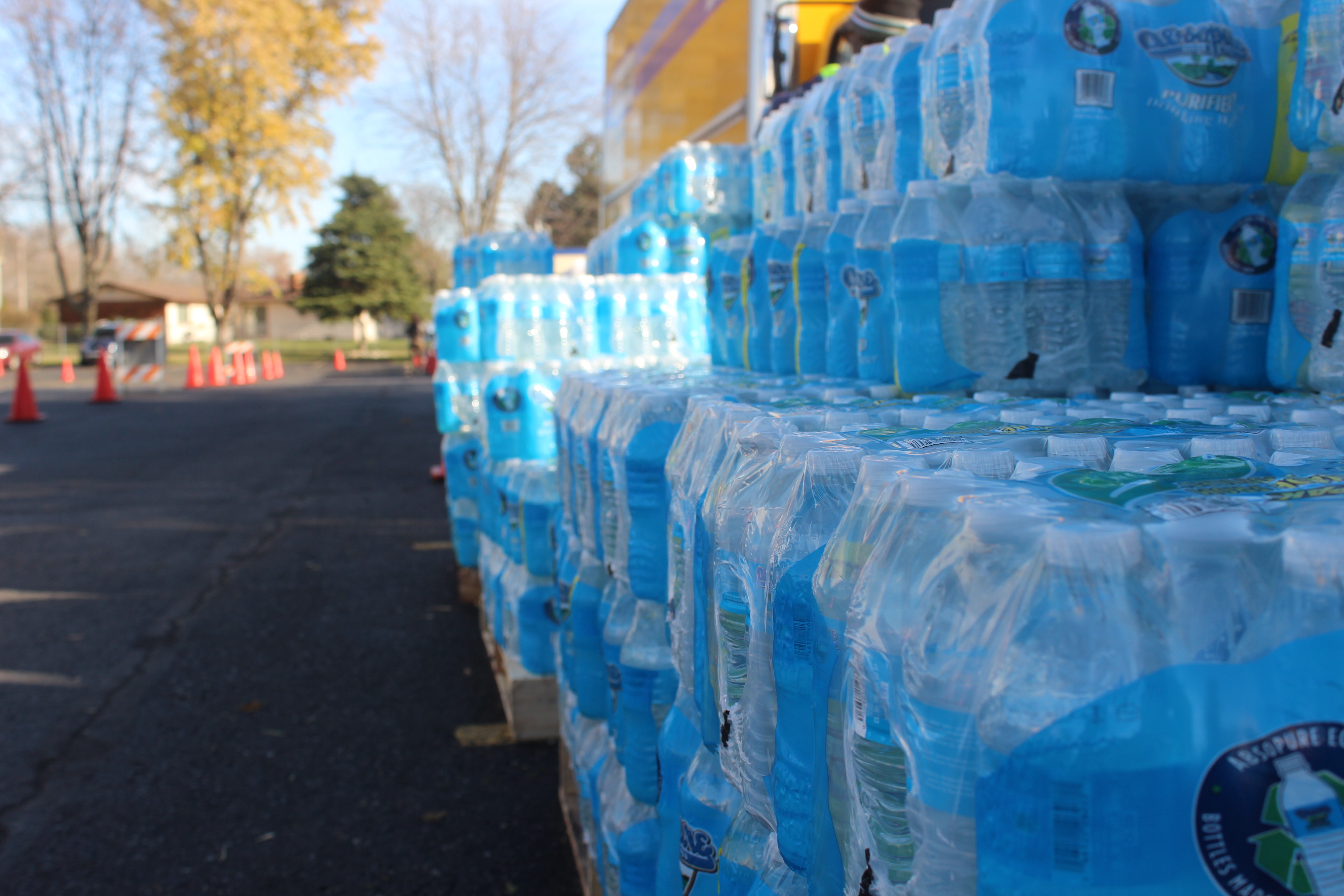 When an entire city's water supply is delivered in single serve water bottles, the management of those empty bottles becomes an issue and an opportunity. In the wake of the water crisis, several Flint-area businesses stepped up to expand recycling opportunities and give Flint residents more options for recycling their empty water bottles. Schupan Recycling, Metro Sanitation Services, and Star Lease having been working together for the past 11 months to collect, store, transport and process Flint's water bottles for recycling. Their contribution can be seen at the nine State managed water distribution points, where residents are also encouraged to bring back their recycled bottles.
On November 14, as a lead up to America Recycles Day, those businesses were recognized by the Association of Plastics Recyclers (APR) for their good deeds. APR is working through the Michigan Recycling Coalition and a small group Flint stakeholders who are exploring ways to spend a financial donation from APR to support and encourage continued recycling in Flint. Schupan, Metro and Star each received a donation and thank you from APR and the stakeholder group.
The Michigan Recycling Coalition and representatives from the City of Flint, Genesee County, and the Department of Environmental Quality
are also working together to identify other opportunities to support grassroots recycling initiatives in the City. Currently residents have to opt-in to the City's curbside recycling program. A simple call to Republic Services - 800-438-0966 will bring residents up to speed about the recycling program and shortly a bin will be delivered so they can take advantage of weekly curbside collection services. Every water distribution center will take recycled water bottles in clear plastic bags that are also provided at distribution centers.
In another important partnership, General Motors is working with Schupan to turn Flint's recycled water bottles into a variety of products for use in GM vehicles and by other companies. The recycled water bottles are processed into plastic fibers that are being used as a fleece to dampen engine noise in the Chevrolet Equinox, by the New Life Center to make panels for an air filtration for use in GM facilities, and the fiber is also used as insulation in garments for people in need made by The Empowerment Plan.
These types of unique partnerships are transforming waste into resources for Flint and Michigan communities and businesses. Recycling, however, starts with you. Take advantage of the recycling opportunities available and contribute to a sustainable future for Flint.
Share this post: