The State of the MRC
On October 1st, the MRC entered its 35th fiscal year, and its most ambitious year yet. With a more concise and inclusive mission and aggressive goals, the MRC is heading into 2017 with purpose and conviction. The MRC faces its greatest opportunity and challenge as it begins the important work of leading the effort to move proactive recycling policy and funding through the legislature before the end of Governor Snyder's final term in office. Read the full report!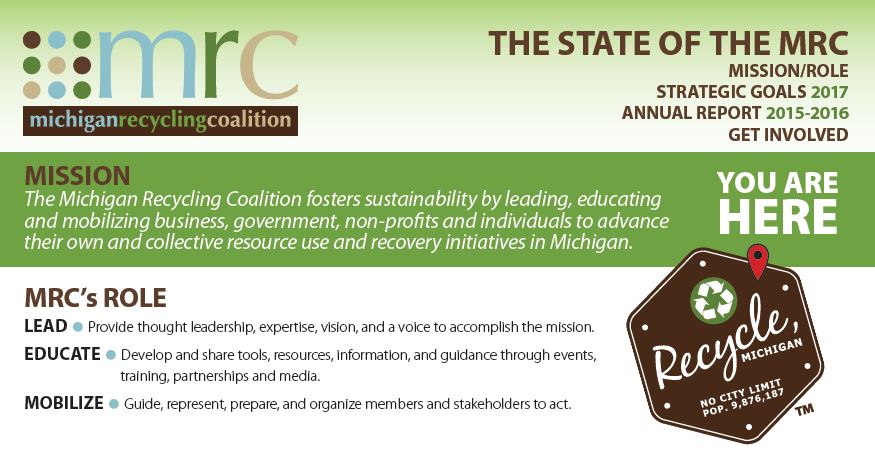 THIS IS WHERE YOU COME IN!
The MRC has been working strategically to elevate recycling issues in Michigan to the benefit of communities, businesses, and recycling service providers. For the past two years, the Governor's Recycling Council (GRC) and the Solid Waste & Sustainability Advisory Panel (SWSAP) have been working to identify solutions to the challenges of growing Michigan's recycling industry. If we are to accomplish these lofty goals, we'll need your help. Attend the MRC's 2016 Fall Into Recycling event on December 6 in Grand Rapids. Join colleagues to learn more about the recommendations the GRC and the SWSAP believe will set the stage to achieve broad recycling goals, how those recommendations compare to the MRC's goals and what is needed to move recycling policy through the Michigan legislature.
In order to prioritize member interests and enhance the member experience, this event is intended for members and those wishing to become members of the MRC. If you are not yet a member, this is a great time to join or to attend the Fall Into Recycling event as a non-member, please contact a member organization in your area or the MRC office.
Get more information, or register now!
Share this post: